WJ Waste Services

We provide convenient, reliable and competitively priced skip bin hire services to homeowners, tradespeople, builders, landscapers, warehouses and all sectors of industry. We are totally committed to environmental protection. Around 75% of all waste produced is recyclable, yet it is estimated that we currently only recycle around 30%.
We are dedicated to recycling as much collected waste as possible, minimising pressure on landfill and assisting our clients in reducing their carbon footprint.
We remove:
General waste
Metal
Plastic
Polystyrene
e-waste
Fluorescents

Skip Bin Hire
We have a comprehensive range of skip bins for hire in various sizes providing an efficient and highly competitive means of disposing of waste generated by:
Building sites
Office clean outs
Demolitions
Home renovations / clean outs
Shop removal / clean outs
Deceased estates
Landscaping
Experience
Our experienced staff will supply you with a free quote and will establish the most appropriate size skip bin to meet your requirements – as we realise that not one size fits all. We have skip bins available in sizes ranging from 5m3 to 30m3. We guarantee prompt drop off and collection.
As part of our commitment to environmentally friendly practices, we recycle as much as the collected waste as possible according to Australian standards.
Skip Bin Sizes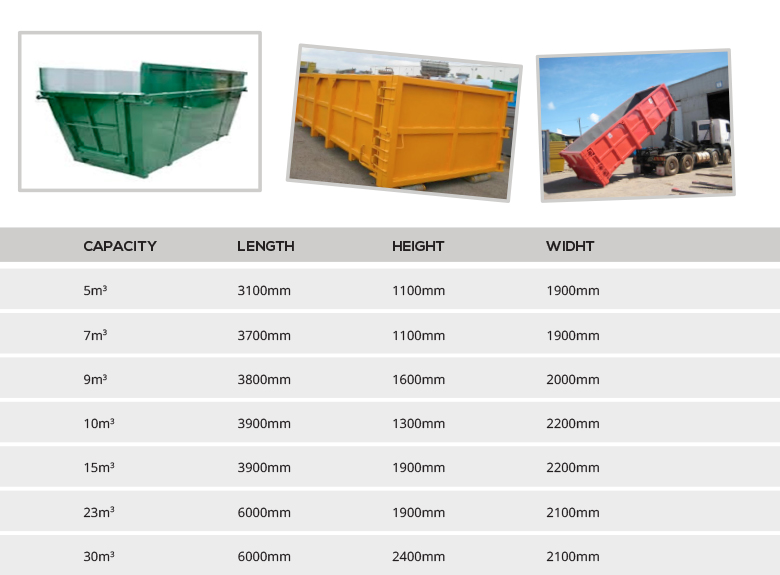 PLANT ROOM CLEANING

Benefits

1) Degrease and detailing of all accessible pipes, walls, doors and fittings. 2) Floor – full machine wash and disinfection. 3) Strip and seal floor if required.

Specialised team of industry professional , focused on providing you with an outstanding level of service . Compliant with Environmental, OH &S and Risk Management legislation, ensuring that staff are committed to safety at your work place.

Each Individual quote is tailored to the size, waste and cleaning requirements for each plant room site.

Plant Room Waste Removal

Benefits:

1) Provision of Skip Bins and trucks

2) Manpower to remove all materials:

scrap metal
left over paint , oils and strippers
unwanted materials from builders and maintenance people
left over machinery
unwanted furniture
General Waste
---
Non-Recyclable Packaging
sandwich packaging with food content
milk jiggers
greasy take-away food boxes
cigarette packets
waxed milk & juice cartons
polystyrene cups & packaging
chip packets, biscuit & confectionary wrappers
Organics
tea bags
chewing gum
small tree clippings
any food waste
fruit & vegetables
prunnings


GENERAL WASTE BINS
RECYCLING BINS
RECYCLING PRODUCTS

Substantial Recycling

Customers producing more substantial quantities of paper, cardboard and plastic waste may wish to be assessed for the suitability of implementing the use of

Balers
Compactors
Crushers
Shredders

Cardboard & Plastic Bale Collection

We provide a cardboard and plastic bale collection service, no matter the size or volume of your business. From high rises in the Sydney CBD – Investa, ANZ Towers, Colonial Centre, Ausgrid, UTS to Commerical locations – Westfields Parramatta, Westfields Bondi Junction, Bankstown Centro, Seven Hills Centro, Sydney Kingsford Smith Airport and to many other businesses – Coca Cola, Westpac, Woolworths and Coles. Waste compaction, baling, crushing and shredding does not just produce less volume, it yields to a number of other reductions – less handling, less time, less energy etc to give you a corresponding number of benefits that lead to more profitable waste management.
POLYSTYRENE

Polystyrene is a type of plastic that is used for a variety of functions including in rigid items such as refrigerator crispers, coat hangers , DVD cases and printer cartridges. It is uniquely recyclable and can be fully reprocessed, which diverts waste from landfill and helps reduce demand on petroleum from which polystyrene is derived.

We collect polystyrene and transport it to an Expanded Polystyrene Australia Collection Centre where it is fed into a granulation machine. At present, all EPS material recycled by the EPSA Collection Centres is exported for further reprocessing . However, EPSA is committed to working with Australian companies to develop a closed loop Australian based EPS recycling industry.
FLUORESCENTS

Fluorescent tubes are an energy efficient way of lighting up our world. However they contain mercury, a metal toxin best kept out of our environment. Although the amount of mercury in each tube may seem small, the millions of lamps discarded each year make up the largest source of mercury going into Australian land fill. W & J Waste Removal service provides businesses with a safe and efficient way of disposing of used fluorescent tubes.

In addition to mercury, fluorescent tubes contain glass, aluminium and other metals. Simply by stopping it at the source, do not let your fluorescent lights end up in the municipal waste stream, ensure they are recycled properly. W & J Waste Removal ensures that all these components are responsibly recycled – the fluorescent tubes are sorted and shipped to licensed recycling facilities where the materials are recovered. Recovered mercury is commonly reused in the dental industry in amalgam for fillings. We determine and deliver the appropriate size recycling box required by businesses and collect it once full.